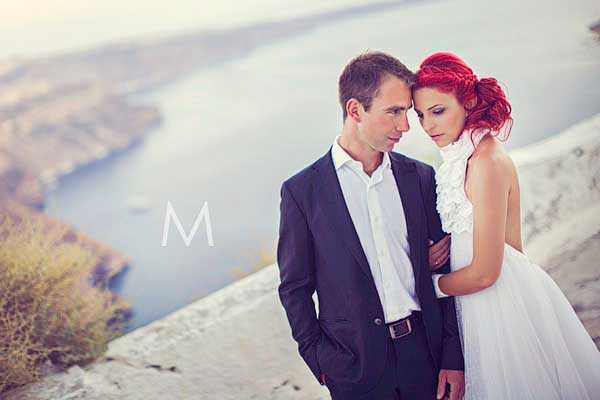 December 11, 2012
It is common to hear people say that too much of a good thing is bad. Genrally, that is true, but not all the time. There will be instances when having too much of a good thing will just plainly be what it is, which is 'too much of a good thing'. Case in point [...]
9 Comments
It is common to hear people say that too much of a good thing is bad. Genrally, that is true, but not all the time. There will be instances when having too much of a good thing will just plainly be what it is, which is 'too much of a good thing'. Case in point is today's feature of Dimitra and Nikos' destination wedding in Santorini, Greece or more exactly in the town of Imerovigli.
Imerovigli is one of the major municipalities in Santorini and the one that is situated on the island's highest point and is thus called "balcony to the Aegean". It is not as dense or as popular as other towns, Oia or Fira but its charm and vantage point makes it awe-inspiringly beautiful especially for weddings.
Just the place itself is already too much of a good thing. The sea, the sky, and the blues and the whites, who can go wrong in such a magnificent setting? Then I have the nicest most beautiful couple in Dimitra and Nikos whose wedding ceremony is unlike anything I've been to, much more covered before. If that isn't enough, how about the fact that Dimitra suddenly surprises us with a red-dyed hair? I know that for most people that is where the 'too much' line is drawn but I loved it to bits. It was the perfect complement to what is already an epic undertaking. On top of all these, there is the perfect weather, the chic White hotel, the fabulous shoes and the wedding dress, and everything just goes on and on.
Now what I'm most happy about is that Metrophoto is there to capture all of these amazing things. See there isn't such a thing as too much of a good thing if it can be captured uniquely and beautifully – to show the spirit of the place and the soul of the celebration. This is the reason I'm perplexed with people who spend huge amounts of money and travel great distances to have the most memorable wedding but hire inept wedding photographers or one-trick ponies who does the same thing wherever they go, i just don't see the point in that.
So allow us to brag and little and say that we are proud with the set of photographs we were able to come-up with in bringing to life, in a lot of angles, emotions, details, and beauty, what is truly a breathtaking wedding experience. Too much of a good thing is not bad, too much of a good thing is Metrophoto and we'll be back again next year for a another wonderful destination wedding booked in Santorini.
Enjoy each and every frame from this wedding and we would like to thanks Dimitra and Nikos for making us part of their wedding. Stay tuned for our next post when we feature their post-wedding photographs. :)