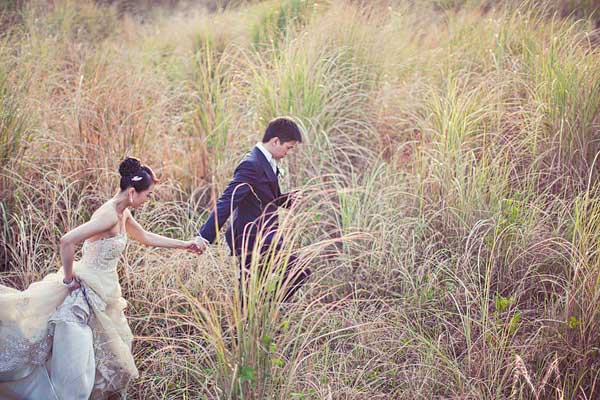 July 25, 2012
I know I always describe our weddings as 'fun'. I also know that it is likely to be the most expected adjective to describe a wedding – well that adjective could also be 'nice', 'hot', 'long' – depending on who you ask, but I'd expect that it is still 'fun' most of the time because [...]
5 Comments
I know I always describe our weddings as 'fun'. I also know that it is likely to be the most expected adjective to describe a wedding – well that adjective could also be 'nice', 'hot', 'long' – depending on who you ask, but I'd expect that it is still 'fun' most of the time because how simply else could it be? :) But there is a spectrum to the degree of 'funness' of a wedding and today's feature will bring us to the funnest side of that.
Everything in life is relative and since this wedding is dearly special to me, I must admit that there is bias and really it was already fun even before it started. Actually if we have to go to the start, we have to go back to August last year when I met Bog and Jade for the first time in New York the night before their e-session. Together with us we're some really really awesome company and we spent a night of stories and sangrias in the meat-packing district, thus 'fun' was redefined and elevated right from there. And it was the start of great experiences together up to the day of their wedding – where the same people that were with us in our unforgettable moments in New York were present. If that weren't enough, they also booked an awesome supplier line-up that totally rocked everything about the wedding and as a perfect silver lining, two of my lovely metrophoto couples were also there to celebrate (three of the four of them were even part of the entourage).
I felt that I could go on and describe how 'fun' it was even more, but I know you already get what I mean and I also know that the photos will tell more of the story so much better than I can try to describe it. So yes, check out the photos and relive this wonderful wedding of Bog and Jade.
Supplier Line-up:
Make-up: Madge Landrito-Lejano
Coordination: Jody Liwanag of Events Experts
Videography: Jason Magbanua
Flowers: Teddy Manuel
Emcee: RJ Ledesma
Thanks to Paul Ticzon for shooting this wedding with us.