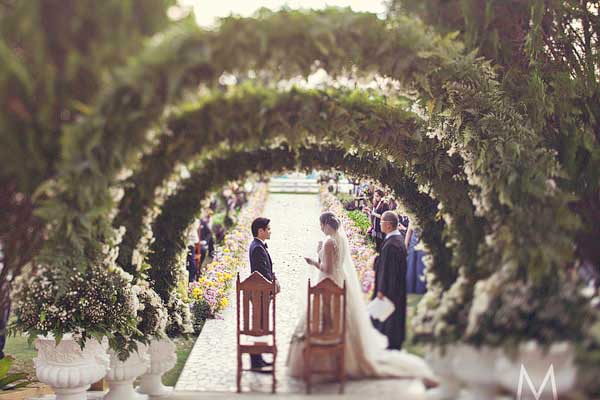 April 1, 2013
Happy Easter everyone! :) I'm excited to share the wonderful wedding of Amanda and Chris Schoof. Held inside Chris' family estate in the town of Baclayon in Bohol, both the ceremony – held at the backyard of the mansion, and the reception – took place at the Peacock Garden Resort, were breathtaking. Technically, this is [...]
1 Comments
Happy Easter everyone! :)
I'm excited to share the wonderful wedding of Amanda and Chris Schoof. Held inside Chris' family estate in the town of Baclayon in Bohol, both the ceremony – held at the backyard of the mansion, and the reception – took place at the Peacock Garden Resort, were breathtaking. Technically, this is a destination wedding for Metrophoto but since Amanda and Chris reside in this beautiful province, it's not much so.
For those of you who visit this site frequently, I'm sure you've chanced upon my previous post of Amanda and Chris's e-session shoot that we shot in same place. Then I had quite a long and fascinating write-up on how these two amazing people and me seemed so meant to be. It's very much worth a visit so please click here to see that entire post.
The wedding was nothing short of what anyone would wish for, extraordinarily beautiful. The details, the colors, the locations, the people – everything felt like being in a movie, a great feel-good movie. The color schemes and landscape makes you feel that you are in Tuscany then there is that Filipino rustic appeal of the vintage wooden chairs used during the ceremony, it was definitely one-of-a-kind. In fact, a big fountain was actually demolished in order to pave the aisle that Amanda will walk on. Nothing was really 'untouchable' in order to make the dream wedding a reality. And I love it!
So please allow us to share with you the photos from this wedding of Amanda and Chris, a testament to an undying love that unconditionally overcame any challenges that stood its way. Truly a wedding unlike any other.
Supplier Line-up:
Make-up: Madge Landrito-Lejano
Coordination: Ernest Pascual of Bespoke Manila
Gown: Veluz
Videography: Bob Nicolas
Florist: Vatel Manila (bride & entourage) / Bluegrass Project (event styling)
Caterer: The Peacock Garden
Cake: Peachy Juban
Emcee: Atom Ungson