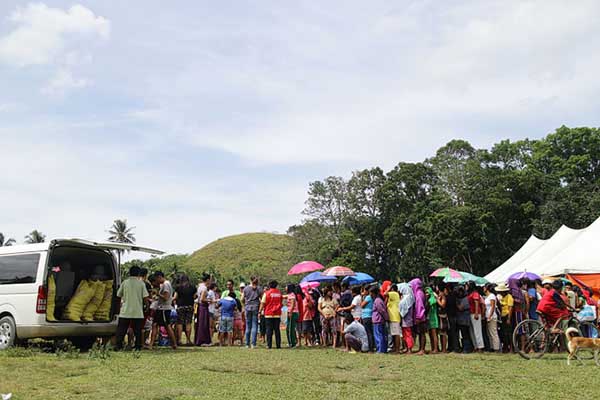 November 1, 2013
Bohol has been close to my heart for so many reasons. In fact, it is the destination where we decided to take the whole Metrophoto team this year for our annual team-building event. We wanted it to be unforgettable and we wanted it to be special. Unfortunately, disaster has struck the province in the weeks [...]
0 Comments
Bohol has been close to my heart for so many reasons. In fact, it is the destination where we decided to take the whole Metrophoto team this year for our annual team-building event. We wanted it to be unforgettable and we wanted it to be special. Unfortunately, disaster has struck the province in the weeks leading to our scheduled flight here. We were saddened to see the magnificent churches we shot at, getting destroyed. Including our other favourite attractions like the Chocolate Hills.
We considered not pushing through anymore because it wouldn't seem right to go here to have fun. But we realized that there is an opportunity to help instead. That we would set forth and make the trip serve more than its intended purpose by helping the province in whatever way we can. So we coordinated with Chris and Amanda Schoof, friends and are a Metrphoto couple, to know what are the ways we'll be of help. We also stressed that if we would just be getting in the way, we would just send out the items.
Through the JCI group and Michael Yu, whose relief efforts are based in Tagbilaran, they were able to set-up a trip to Sagbayan, one of the more affected towns in the province. They said that by sharing our experience through the photos we'll take, the awareness about the actual destruction brought by the earthquake, can spread as well. And we were shocked to see how devastated the place was. Almost every house we saw have collapsed including their municipal hall. The chocolate hills in the area also had its outer crust fall off.
It's so different from what we've initially seen in the news were it was mostly about the ruined churches and tourist spots. Here you see actual homes, almost all of them knocked down and actual lives, almost all of them struggling. The wrath of the calamity is way worse than what we thought and being there was wake-up call. Bohol, especially the towns on the north west side, are nowhere near recovering. After weeks, it is just now that people are starting to put up tents as temporary replacements for their houses and the roads are still far form being in good condition.
I know it will be a long road to rehabilitation, it will take a lot of years, but it is nice to see that help is there and that the Boholanos are positive. Still, whatever anyone can provide to make this journey easier, I'm sure it will be welcomed.
If you still want to help, you can check out the Bohol Brigade site. https://www.facebook.com/BoholBrigade