New and improved Hothouse in Manila coming.
September 29 and 30, 2012 (More extensive than ever and new techniques)
Midas Hotel in Manila
E-mail us at metro.photos@gmail.com for details on how to get a slot.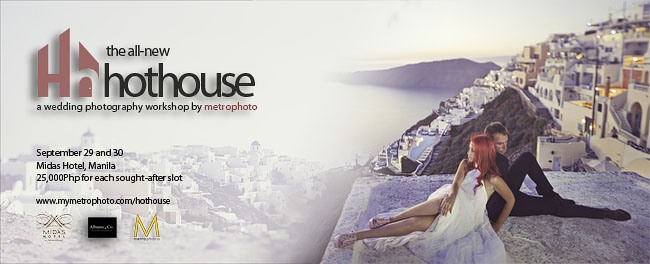 ______________________________________________________________
Hothouse is the workshop series of Metrophoto on wedding photography. It is especially crafted to bring interested photographers all the learning, techniques, and knowledge that have made the Metrophoto brand succeed in the short time since its inception.
Hothouse, as the dictionary defines it, is an environment that encourages rapid growth or development of someone in a stifling or intense way. That is exactly what aim for but in a sure fun and inspiring way. It is a comprehensive download of everything that we know to help your photography and business get to the next level.
Part of the workshop activities and discussions are videos of Metrophoto's actual shoots, shooting concepts, equipment line-up and set-up, actual shoot, post production, up to branding and marketing and dealing with clients. We'll simulate how to extract unique and stylish images out of a location that seemed to have nothing, we'll share and show all the gears we use and WHEN and WHERE we use them and what could be your cheaper alternative, we'll explain how to get that Metrophoto look right from the shooting up to final processing, and most importantly, how to create your own brand and business.
Hothouse is the workshop of the country's most successful wedding photography brand in the last five years. Owner and speaker Oly Ruiz has not only built a competency for being a trend-setting photographer but he has been a speaker and leader for most of this career. He is a graduate of engineering from University of the Philippines and finished his MBA in Ateneo at the top of his batch. He has also been invited to speak in a few international workshops including a recent one in Bali, Indonesia with the best wedding photographers in Singapore and the United States. Based on these credentials and the continued success of Metrophoto, it's hard to find a more qualified speaker and brand model. Not to mention the emergence of studios making their successes after attending the Hothouse Workshop.
The workshop is also participated and sponsored by top wedding suppliers in the country.
Visit our recent workshop experiences in the links below:
Read a few of the raves from the participants:
"I have attended hothouse in Doha but after being so inspired I was compelled to attend hothouse in Dubai as well. I've been to several workshops but I've never seen someone more passionately speak than Oly"
"I have attended many workshops already but I never seen someone so passionate in sharing his experiences and technique, you really want your participants to learn"
"Joining this workshop is definitely in the top 10 right decisions i made in my life."
"Grabe…of all workshops na dinaluahn namin ni Armand during our term, kakaiba the way you presented it and no holds barred! No wonder your blessings are overflowing! Salamat uli and we will not forget the day when we were Metrofied!!"
"As I keep on saying to my friends, attending your seminar was money well spent!"
"Awesome workshop!"
"I have attended workshops after workshops but none came close to the content and inspiration I got from hothouse"
"Flying from across the country was more than worth it! I would have flown for your workshop even if I was from across the globe"