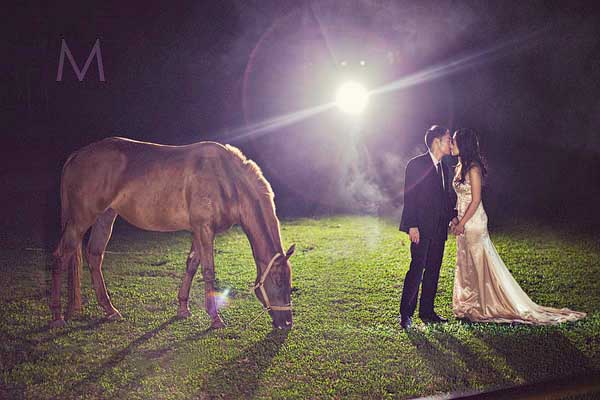 July 18, 2012
Today's post is teeming with horsepower (I mean that both literally and figuratively), and I'm not just talking about any horsepower here, what we have are the primes of the their breeds. Astute, breakneck, and beautiful – my kind of thing and surely Raymond and Larae's kind of things as well. We started off shooting [...]
3 Comments
Today's post is teeming with horsepower (I mean that both literally and figuratively), and I'm not just talking about any horsepower here, what we have are the primes of the their breeds. Astute, breakneck, and beautiful – my kind of thing and surely Raymond and Larae's kind of things as well.
We started off shooting at a thoroughbred ranch in Batangas. I've seen and shot quite a few set-ups that had horses in them but I haven't been close to ones that are this enormous. We really could have shot a peg from Game of Thrones if we wanted too. hahaha. We used both an adult and a filly for grandness and safety respectively. Loved how the photos turned out despite the challenges brought about by the extreme heat (metal roofing), pesky flies, and the unpredictable behavior of the horses. But somehow Monds and Larae were able to charm them and made the evening part of the shoot much easier.
For the second part of the shoot we brought out a different kind of horse power which was from a Porsche Boxster. That thing stood toe to toe with the thoroughbred and was equally awesome. We shot the scenes at a nearby bridge and the crowd started to build-up – we had to have several people for crown-control just to make sure they don't get in the way. hahaha – I'm not kidding.
Enjoy the photos of this rather brawny but really beautiful e-session of Monds and Larae :)