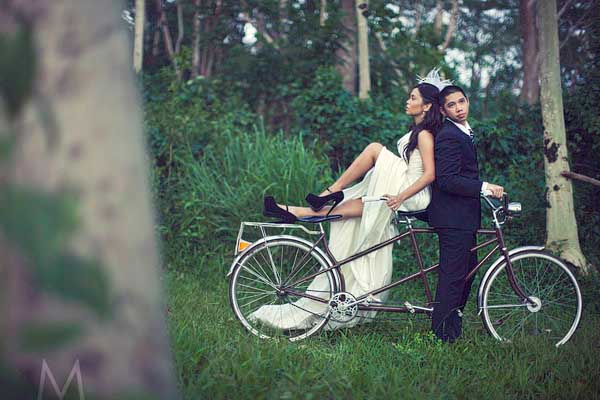 August 13, 2012
I'm pretty sure that before this shoot, I've never shot bikes more in my entire life – even if we put together all of my pictures with a bike in it. I'm also pretty sure the before this shoot I've never had a chance to shoot my couples on top of a 15ft high hanging [...]
5 Comments
I'm pretty sure that before this shoot, I've never shot bikes more in my entire life – even if we put together all of my pictures with a bike in it. I'm also pretty sure the before this shoot I've never had a chance to shoot my couples on top of a 15ft high hanging tree trunk and also finish the shoot not when the rain started but when the rain stopped.
This e-session of Pat and Caleen, doesn't boast of grand or exceptional locations but simply by a pair of bikes and a pair of people that's as natural in front of the camera as natural as they are drawn into each other. And sometimes, it's really more than you need (the drama of the rain just came as a bonus I guess for such a wonderful job they did all day).
Shot along (and outside) the La Mesa Watershed bike trails, we had vintage bikes, a tandem bike, and mountain bikes at our disposal for the shoot. Honestly, it was initially perplexing for me to shoot this many bikes in an apparently unvarying setting of grasses, trees, and more grasses and more trees – no matter the assortment of bikes, because after all they are meant to be mounted the same way. But just like everything else, it is the true metrophoto couple grit and grace of Pat and Caleen that made all the difference. It is their poise in any given pose and their willingness to have the best no matter the situation that made this shoot as fabulous and as gorgeous as what it is.
Enjoy the photos :)