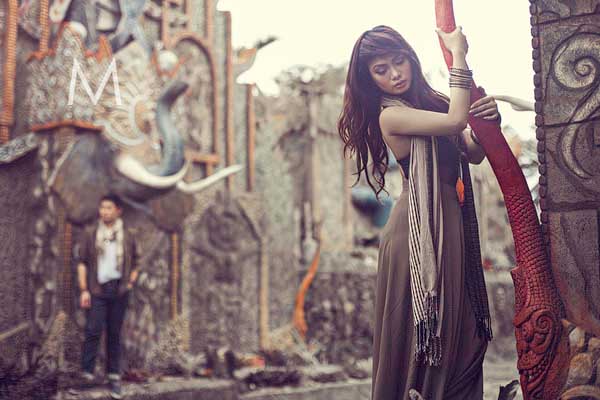 October 22, 2012
I'm very excited to share with you today the photos from the engagement session of Nikko and Charm. One of my current favorites, you'll understand why later on, it was shot inside the Cintai Corito's garden in Batangas. This Balinese-inspired shoot is gorgeous, captivating, and hot and had the making of a truly memorable metrophoto [...]
3 Comments
I'm very excited to share with you today the photos from the engagement session of Nikko and Charm. One of my current favorites, you'll understand why later on, it was shot inside the Cintai Corito's garden in Batangas. This Balinese-inspired shoot is gorgeous, captivating, and hot and had the making of a truly memorable metrophoto engagement session.
While prepping for the shoot that day, Nikko and I were discussing the possible concepts that we were going to try and do. I told them the things that they should be ready for, like maybe a little showing of emotions and some climbing, and then Charm told me, "Oly do what you have to do as long as it's going to be different". Translation: Enough with the explanations, we're all yours so do what you want us to do.
So it was like that, I was set inside this beautiful location that seemed to be thousands of miles away from Manila, with a good-looking couple (a bride so pretty, she's going to have the wonder girls want to add another member), and a go-signal to do whatever it takes. Such a metrophoto bride moment.
Truth is, after having all of those, it didn't take so much to create wonderful photographs and we were shooting with such high efficiency. But just to make things more amazing than it already were, on our last set during the evening, Charm went on and said "you know I should go ahead and climb that structure with Nikko". It wasn't a question, she was telling me what she wanted to do. And this is for a pose that I didn't consider having her climb because it was really really steep and it was already dark (and she already had a fabulous shot on top of another structure in the previous set). There ensued a little deliberation if it was necessary but she eventually went on and stood on top of the Garden's famous gate – something only she could and would do. It was beyond awesome.
Enjoy the photos. Special thanks to my favorite e-session stylist and make-up artist (Deb Bernales and Jo Ticzon) for making this one for the books :)