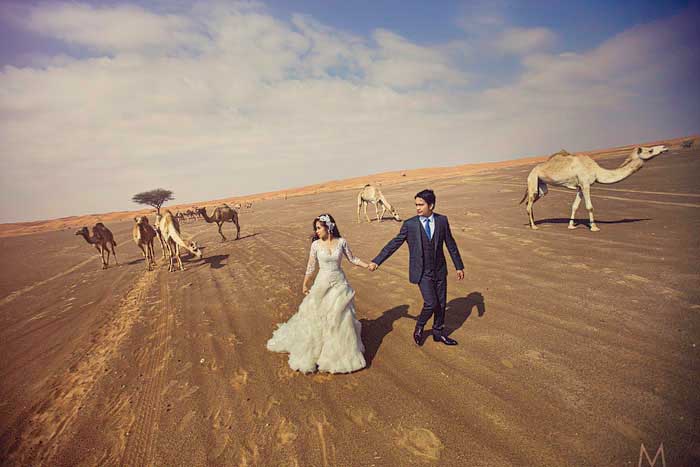 Previously, we featured the photos from my first ever exhibit early this year – both from the event on opening night and the featured photos themselves. We are going along the same direction as we now take you to Dubai with the photos from Che and Joseph's Trash the Dress shoot.
To tell you the truth, this trip was decided just several days in advance. Che and Joseph were no sure yet if they will have the time to prepare for a shoot in Dubai after just coming back from their wedding in Philippines. But I guess opportunities like these do not come often so we all made sure we make the most out of it.
Part of the vision and challenge of destination shooting is having to feature what's expected yet having to feature it unexpectedly. Dubai's obvious attractions are of course their deserts and their markets. We wanted to show these locations in a way that's out of the ordinary. We used a herd of camels and a bunch of boats and to add to those, interesting is the beautiful wedding gown that's a natural standout and unusual angles that the photos were taken from.
It wasn't easy shooting these, but it was one heck of an experience. Join us again as we make destination shoot even more out of the ordinary. Enjoy.
Special thanks to the gorgeous Jaja Jones for helping me in this shoot. :)