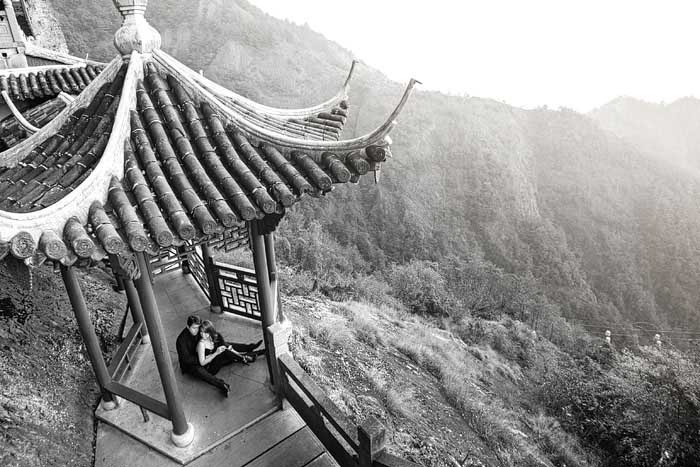 I draw inspirations from so many things. The movies I watch, the places I visit, the stores I buy from, the music I hear, the people I meet, but most of all I get it from the couples I shoot – their desire motivates me and their trust elevates me. The farther they are willing to go, the more I am willing to give.
In our every shoot, we spend time to plan and put different bits from all these sources together to create something unique and exceptional. It is not an easy process, there are limitless possibilities and yet limited resources. But in today's feature of the pre wedding shoot of Ery and Keefe, we were able to overcome those challenges and accomplish so much with so little.
Ery already knew that she wanted to shoot in Shanghai even before she booked me. I've shot in Shanghai a few years earlier and it's a place I'm certain I can shoot again without repeating the shots I did before. This concept of shooting in Shanghai was very good but not "spectacular"… yet – it needed something else. Watching TV one day, I was reminded how I've always been amazed whenever I see hanging temples in movies (GI JOE, The Karate Kid, and Batman Begins) and I knew that we had to shoot in such a place for this trip. I proposed the idea to Ery and she made "spectacular" happen.
In between planning and featuring the photographs here, many hours were invested, train rides were missed and a lot of miles were walked. This is one of the most challenging shoot I've ever done – a combination of obstacles we expected and those we did not. I loved every bit of it because I know that it is only through difficulties that breakthroughs are made. And honestly, none of those matter now, what's important are the results, and I'm proud of them much as I am proud of Ery and Keefe. These two have a different set of standards and they did whatever it took – braved the cold, climb-up temples and forwent sleep… if these aren't inspiring enough, I don't know what else is. Enjoy the photos.